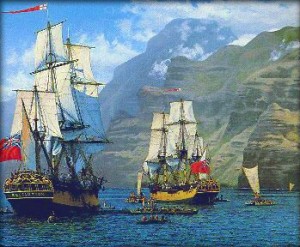 With the opening of Hawai'i to the outside world after the arrival of Captain James Cook in 1778, Hawaii's timber resources supplied the needs, particularly for fuel wood, of the many trading and whaling vessels that plied the Pacific maritime routes in the late 1700s and the 1800s.
In addition, as many as six to seven hundred cords a year (1444 m3 – 1685 m3/282,000 fbm – 329000 fbm) of fuel wood were used at the mills of the growing sugar industry in Hawai'i. This practice lasted approximately 50 years until the mid 1880s when the majority of plantations had converted to coal or new technologies that used residue from sugar cane–-called bagasse–for fuel.
Image–Captain Cook's Moment of Discovery Kaua'i January 19, 1778. Courtesy, Artist, Raymond A. Massey, Ship Store Galleries, Kapaa, Kaua'i.