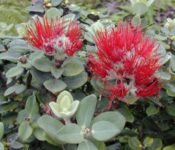 The fungus, Ceratocystis, has impacted over 50,000 acres of ʻŌhiÊ»a forest on HawaiÊ»i Island so far. Here's how you can learn more about it:
If you'd  like to spend an excellent 35 minutes to learn what Rapid ʻŌhiÊ»a Death (ROD) is, how it's being detected and about the College of Tropical Agriculture and Human Resources' (CTAHR) Strategic Response Plan, watch extension forester Dr. J.B. Friday, discuss this subject with the HawaiÊ»i County Council Committee on Agriculture on February 12, 2017 and presented by Big Island Video News.
Visit CTAHR's' page dedicated to Rapid ʻŌhiÊ»a Death to find out where it is, what you can do about it and helpful links, including their Facebook page.
Image Wikimedia USGS
The Kaua'i Forest Bird Recovery Project (KFBRP) promotes knowledge, appreciation and conservation of Kauai's native forest birds. The organization focuses mainly on three federally endangered species: Puaiohi, 'Akikiki, and 'Akeke'e.
To find out more about this collaborative organization visit their site .
If you're looking for exquisite forest-bird-inspired fashion which keeps you cool, displays beautiful art work by artist, Eleanor Grosch, AND helps keep Kauai's forest song going visit here.