Portion of Kona Cloud Forest Sanctuary Preserved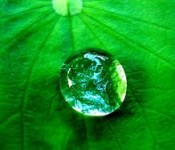 Max Dible of West Hawaii Today  writes that "Norman Bezona, a retired professor emeritus from the University of Hawai'i College of Tropical Agriculture and the steward of the (Cloud Forest) sanctuary has entered into a conservation agreement with Hawaiian Islands Land Trust (HILT) ".  Read the article and see the images.
Find out more about the Kona Cloud Forest Sanctuary here .  To see a visitor's video (Daniele Giacametti) of the forest view this YouTube video .
To learn more about the Hawaiian Islands Land Trust visit their site. If you'd like to have some basic information on cloud forests, aka montane forests, try good old wiki. If you're even more curious about plants and watersheds in Hawai'i visit CTAHR"S Forest Hydrology Site .